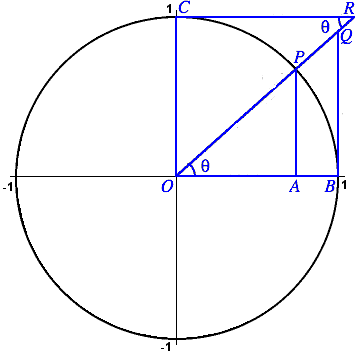 By definition the point P has coordinates (cos θ, sin θ). This means cos θ = OA and sin θ = AP.
The triangles OAP and OBQ are similar. The ratios of corresponding sides are therefore equal, for example, AP/OA = BQ/OB, that is, sin θ/cos θ = BQ/1. We have deduced that tan θ = BQ.
Using the same triangles, we see that OP/OA = OQ/OB, that is, 1/cos θ = OQ/1. This means that sec θ = OQ.
The triangles OBQ and RCO are similar. Therefore OB/BQ = CR/OC (note carefully which sides correspond), that is, 1/tan θ = CR/1. We conclude that cot θ = CR.
Finally, using the similar triangles OAP and RCO, we get OP/OA = OR/OC, that is, 1/sin θ = OR/1, and so csc θ = OR.
As a bonus, the theorem of Pythagoras applied to each the three right triangles in the diagram gives us the three fundamental trigonometric identities:
cos2 θ + sin2 θ = 1,
1 + tan2 θ = sec2 θ
and 1 + cot2 θ = csc2 θ.